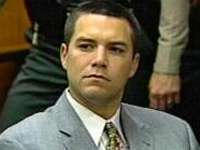 <![if !vml]>

<![endif]>

Research this case. Become a detective and find out who, what, where, when, and why.

Hear ye, hear ye! - Read all about it!!
March 16, 2005 - Peterson Judge Sentences him to death get the details here . . .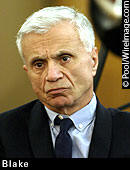 <![if !vml]>

<![endif]>

Actor Robert Blake stands accused of murder--and of giving a bad performance.
The Case in Brief

LaciPeterson.com - in memory of Laci and Conner Peterson. Owned and operated by the family and friends of Laci Peterson.
Robert Blake Arrested in Wife's Murder
The 68-year-old actor was arraigned Monday (April 22, 2002) on one count of murder with special circumstances, two counts of solicitation of murder and one count of murder conspiracy

According to the murder charge, Blake "intentionally killed the victim by means of lying in wait" -- a special circumstance that prosecutors can use to seek the death penalty. Robert Blake: Murder Indictment Coverage