Check out these sites to be among the people who are in the know.
Take a look: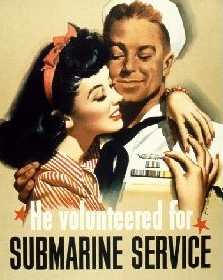 Military English: E. L. Easton, British Council
Quotes, Jokes: Military Quotes, Jokes, Mottos
Military Pen Pals: USA Forces, British Forces
250th Anniversary
NOVEMBER 1
1755 LISBON
EARTHQUAKE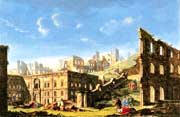 "All hell broke loose on All Saint's Day"
On All Saints' Day, 1 Nov 1755, at approximately 9.30 am, Western Europe was shaken by a mighty earthquake. In just 10 minutes dust obscured the Sun. Some saw it as a sign of the coming of Christ - one of the great earthquakes of the Apocalypse. The catastrophe was given special religious significance – and inspired countless sermons on Providence and the wrath of God – because it struck on a Catholic holiday and destroyed almost every important church in Lisbon. It was served up to congregations as a warning. It also inspired thinkers of the European Enlightenment, including Voltaire.
In 1605 a group of men tried to blow up the houses of Parliament and overthrow the king. But why? click here to find out what all the fuss was about. . .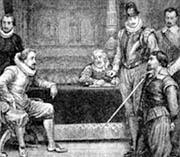 Gunpowder Plot
November 5 marks the 400th anniversary
Guy Fawkes & Bonfire Night
The events of 1605 are also remembered in a nursery rhyme."Remember, remember, the 5th of November,
Gunpowder, treason and plot.
We see no reason why gunpowder treason
Should ever be forgot." check out this site for more sayings and chants